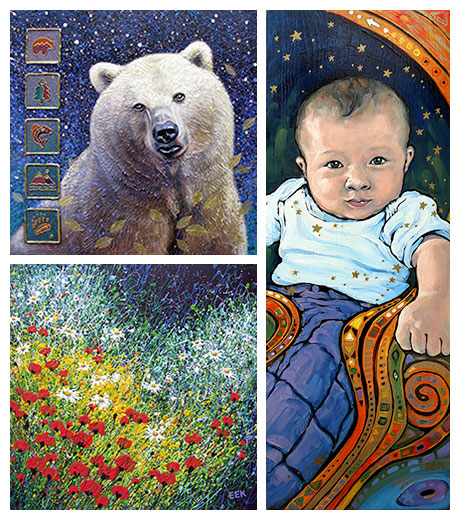 Clockwise: 'Ursa Major' - Mixed media on canvas,
'Bowen' - Oil on panel, 'Evening Waltz' - Acrylic on canvas
Currently I am exploring new methods of approaching
my work and investigating the relationships created by combining and contrasting hard edge with fluid shapes, form, texture, symbology and seemingly unrelated subject matter. Integrating my loose, dribbled 'organic' painting technique with 'inorganic' metallic painting media should result in final works that are reminiscent of a marriage between the styles of Gustav Klimt, Jackson Pollack and Evelyn Kirkaldy.
The aim is to engage viewers with imagery that reflects the complicated realities of our local Kootenay communities. Elements that can seem to be at odds – incongruity between natural and industrial worlds, organic and inorganic – can be combined to create beauty.
Select pieces completed were featured in my garden gallery during the August 2016 Columbia Basin Culture Tour and the final body of work will be displayed throughout May 2017 at Mama Sita's Cafe, Hwy 6, Downtown Winlaw, BC.